Through collaborative leadership, the Andalusia Area Chamber of Commerce promotes business relations and creates opportunities for economic prosperity and quality living in Andalusia, Alabama.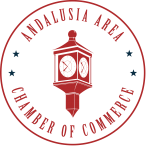 The Andalusia Area Chamber of Commerce is comprised of over 400 businesses ranging from mom & pop establishments to national retailers. There is strength in diversity and this is just one factor that makes our chamber special. We all share a common goal and that is for the betterment of our community.
Studies show being active in the local chamber of commerce is a good strategy for businesses to use in communicating company traits (click here to view study).  Statistically, it is an effective way to convey to consumers that a company uses good business practices, is involved in the community, cares about customers, and is reputable regardless of whatever they may or may not already think about the company.
A chamber membership establishes an open line of communication between the Chamber of Commerce, its members, and the community as a whole. We are bringing free small business development consulting, increasing marketing benefits, reaching out to our schools to provide tools that help young people entering the workforce, and hosting countless events, both educational and entertaining.
Starting a Business in the Andalusia Area? Click below to view our Business Startup Checklist!