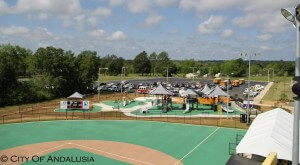 With the changing times and new technology, the Department of Leisure Services strives to do everything possible to be at the forefront of expanding into new and inventive programs. Today, it provides a broad range of youth and adult sport programming. The City currently offers soccer, basketball, softball, baseball, golf, tennis, and swimming to our youth with hopes for new programming in the near future. Its adult programs include men's and women's independent league softball and church league softball. The City of Andalusia will continue to meet the needs of its citizens by generating new and exciting programs for the people of Andalusia and surrounding areas.
Visit one of our city, state, or national parks. The Conecuh National Forest with its Open Pond and Blue Lake Recreation areas offer hiking and biking trails through long leaf pine forests, wildflowers, and shady glens. A full hookup RV site is located at Open Pond. The LBW Walking Trail winds through the beautiful woods surrounding the Lurleen B. Wallace Community College campus and 9-hole Evans Barnes Golf Course. Tennis courts, baseball and softball fields, and the Build-A-Dream Park are also located on the LBW grounds.
Gantt Lake and Point A Lake can be found on the outskirts of Andalusia for fishing, boating, and other water activities. Our two city pools offer swim lessons, water aerobics classes, or just a nice place to relax on a hot, summer day.